New England Secondary School Virtual Art Competition
New England Secondary School
Virtual Art Competition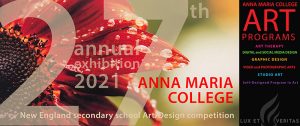 The New England Secondary School Virtual Art & Design Competition at Anna Maria College
Virtual Exhibition Dates: February 8 – March 12, 2021
ZOOM Awards Presentation: Wednesday, February 24, 2021 at 7:15 p.m.
Click here to view the awards presentations.
Please Submit Materials and Register Online Using the Links below
Formstack for 2D and 3D submissions
SlideRoom for video submissions
Eligibility
Open to all secondary/high school  students.
All work must be original and completed within the last two years.
Categories
Digital Design
Drawing
Painting
Photography
Printmaking
Sculpture/3D
Video
Awards
Anna Maria College Art/Design Merit Scholarships (Senior standing required):
$2000 – $10,000 Merit Scholarship Awards
Requirements
Up to 3 Works per Individual submission
2D: 72 dpi at 10" or 720 px
3D: one additional photo allowed/piece
Video: MP4, H264 CODEC, no longer than 3 minutes
Dates and Deadlines
Online Submission: November 1, 2020 – January 15, 2021
Please Register Online
Contact: David Wackell, dwackell@annamaria.edu
We encourage all students to visit us during Open House.
Visit www.annamaria.edu/visit for more information.
Holy Swinamer
Nightmare
Digital Animation
Tri-County Regional Vocational Technical High School
Morgan Willis
Brainwash
Animated Video
Chicopee Comprehensive High School